2-Channel 10G-Base-SR Copper/Fiber Media Converters
Description:
Standalone dual channel fiber protocol converter good for 1G and 10G Ethernet.
This product converts two channels of 1G or 10G-Base-T copper Ethernet to fiber optic protocols. In the 1G-Base-T protocol, the corresponding fiber protocol is 1G-Base-SX. In the 10G-Base-T protocol, the cooresponding fiber
protocol is 10G-Base-SR. The product auto-negotiates the fastest speed on the copper side of the interface and then sets the fiber speed. In addition to the functionality, the part comes as a stand-alone item to add to a platform with a 28VDC input power connector.
Features & Benefits:
Copper protocols are auto-negotiated and can
be 1G-Base-T or 10G-Base-T compliant to IEEE
802.3an standards
Fiber protocols can be 1G-Base-SX and 10G-Base-SR
compliant to industry standards.
Fiber optic output power is -3dBm minimum.
Fiber optic receive sensitivities are -13dBm minimum.
Power supply is 28V; 5 Watts max
Stand-alone adapter for integrating systems
Expandable from 1G to 10G speeds
Conduction cooled and -40C-+85C temperatures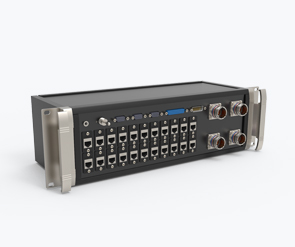 Rugged Junction Boxes
Ethernet junction boxes for rugged military and other harsh environment applications, featuring a wide range of Amphenol D38999 connectors.