4 Channel 10G BASE-T to XAUI Converter
Description:
Amphenol's 10GBASE-T to XAUI converter couples SerDes technology and transformer coupling, which allows for protocol conversion with a new level of ruggedization. This product takes a high speed signal in an electrical backplane and convert it to a protocol that allows for signal transmission over 100 meters between devices. This product line is rugged, flexible, affordable, and can be used in harsh environment avionics, ground systems, or naval applications.
Features & Benefits:
(4) 10G Ethernet Channels
Protocol conversion between
10GBASE-T and XAUI
Perfect for routing multiple 10 Gigabit
Ethernet connections into systems and
to and from circuit boards
Compliant with IEEE 802.3an Ethernet
Standards and Specifications
Hermetic option available with a helium
leak rate of 10-4 cc/sec
D38999 Shell Size 25 with standard
rotations available
8 High speed split-pair quadrax
contacts capable of 6.25Gbps
Samtec Q Series®
High Speed Cable Assembly
5V power connection in Samtec
connector flexible ribbon cable
Low power consumption
Natural convection cooled (no fan or
cold plate required)
Operational temperature
-40°C to +85°C
Storage temperature
-50°C to +125°C
EMI/EMC compatible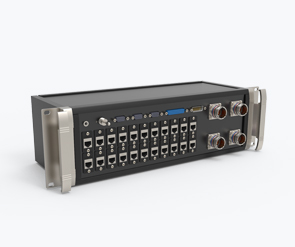 Rugged Junction Boxes
Ethernet junction boxes for rugged military and other harsh environment applications, featuring a wide range of Amphenol D38999 connectors.