4 Channel XAUI 10G Ethernet Integrated Media Converter
Description:
The Amphenol's 4 Channel XAUI 10G Ethernet Integrated Media Converter is a SERDES interfacing integrated media converter with four channels of XAUI and four channels of single mode bi-directional 10G Ethernet. This product's low power consumption and MDIO serial interface for built-in test and diagnostics makes it great fit for rugged, harsh environment avionics, ground systems, or naval applications.
Features & Benefits:
Speed Cable Assembly and vertical mount board connectors
Two hanging cable assemblies for distributed connections across the subsystem and backplane
Low power consumption
MDIO serial interface for Built-In Test and Diagnostics
Ruggedization:
Natural convection cooled (no fan)
Operational temperature -40°C to +85°C
Storage temperature -50°C to +125°C
EMI/EMC compatible
Refer to page 4 for additional details
Drawing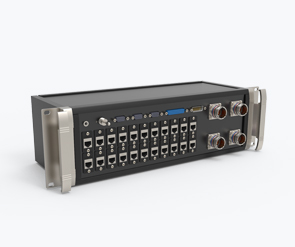 Rugged Junction Boxes
Ethernet junction boxes for rugged military and other harsh environment applications, featuring a wide range of Amphenol D38999 connectors.