8 Channel 10/100/1GBase-T Managed or Unmanaged Switch for RJFTV D38999 Connectors

Description:
Amphenol's RJSMLAC-8UG-CAPS is a MIL-STD rugged, unmanaged, military-grade Ethernet switch, offering 8 triple speed Ethernet (10/100/1000) ports. Ethernet connectors are RJFTV using RJField patented system that allows easy and quick assembly of any standard RJ45 cordset without any tool.
Developed for militry and harsh environment applications, the RJSMLAC features mechanical packaging enhancements designed for MIL-STD-810F airborne and ground environment compliance and high reliability. The unit has been especially hardened to improve ingress, impact, and shock/vibration protection, as well as eliminate all moving parts through passive cooling.
Leveraging best-in-class switching technology, the RJSMLAC serves as a robust solution for providing local area network (LAN) connectivity to IP-enabled computing and net-centric devices. Compact in size, the RJSMLAC is particularely useful for expanding port density in space-constrained airborne and ground vehicle environments.
Features & Benefits: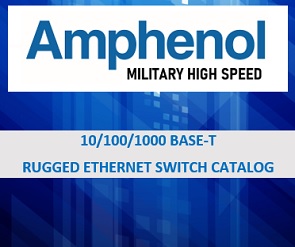 Fast Ethernet Switch Catalog
In this abbreviated catalog is a small collection of Amphenol Military High Speed's fast, rugged Ethernet switches. For more speeds, more port options, or any other custom requests, please request one of their other catalogs or contact: Jared Sibrava, jsibrava@amphenol-aao.com