Rectangular Connectors with High Speed Contacts
Description:
Offers several advantages for high data transfer rates, low power consumption, and excellent EMI compatibility. Two strategically spaced inner contacts form two 100 or 150 Ohm matched impedance differential pairs. The Outer contact has a rugged wall section for durability. Available in size 8 crimp termination style. Also available in size 8 with PC tails.
Features & Benefits:
Variety of plated, aluminum shell styles available
Custom shell styles available upon request
Quadrax, Split Pair Quadrax, or Differential Twinax available
Board Level connectors can incorporate straight or PCB Tails right angle, or straight compliant tail contacts
Mating Plug connectors use the standard crimp Quadrax/ Differential Twinax Contacts
Outer contacts are grounded to the shell
Performance Specifications
Environmental Sealing: IAW connector specification
Corrosion Resistance: 500 hours salt spray
EMI Shielding: 360 degree shielding on each pair
Mating Cycles: 500 cycles
Voltage Rating: 500 Vrms max @ sea level
Dielectric Withstanding Voltage: 500 VAC RMS sea level
Temperature Range: -65C to 175C
Bandwidth: Up to 1.25 GHz
Data Rate: Exceeding 2.5 Gbps.
Voltage Rating: 500 Vrms max. @ sea level
Rectangular Connectors with Quadrax Contacts
Rectangular Connectors with Split-Pair Quadrax Contacts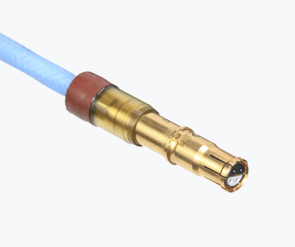 Split-Pair Quadrax Contacts
Overall higher bandwidth than standard CAT5E quadrax - Supports up to 6.5 Gbps per pair. For CAT6A type cable.