News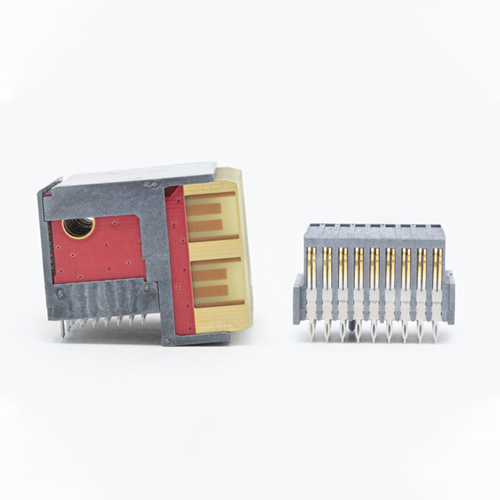 September 23, 2020
R-VPX Evolution 2.0 Fastest VITA 46 Connector in the World
Amphenol Aerospace's new R-VPX Evolution 2.0 connectors are the world's fastest VITA 46.30 connectors, achieving data rates over 32 Gbps while meeting the specification requirements. R-VPX Evolution 2.0 connectors will enable the embedded market to meet and exceed the demanding needs of today's protocols, including 25G Ethernet (100GBASE-KR4) and PCIe Gen 5 (32G).
The changes in R-VPX connector technology has rapidly evolved in recent years, driving demand for higher data rates from copper contact-based connectors, which have typically resided in the 10 & 16 Gbps speed realm. The fastest connector in the market to date is performing to 25 Gbps, but the market demands even faster speeds. Amphenol's new R-VPX Evolution 2.0 connector will deliver these faster speeds as the first and only 32 Gbps+ VITA 46.30 connectors available.
The team from Amphenol Aerospace and Amphenol TCS that developed R-VPX and R-VPX Evolution 1.0 connectors also designed the new R-VPX Evolution 2.0 connectors. They made changes to the proven characteristics from previous designs to enable the speed performance improvement in this new connector series while meeting all of the requirements of the VITA 46.30 specification and maintaining intermateability.
Amphenol Aerospace Board Level Product Manager Catalin Brandas said of the new R-VPX Evolution 2.0 connectors, "We are extremely excited to offer our customers and industry partners this cutting edge VPX connector solution. Designed, developed, and tested to meet all applicable VPX standards, our R-VPX Evolution 2.0 connector line enables our customers to design and develop next generation systems capable of supporting protocols such as 100GBASE-KR4 and PCIe Gen 5. Reaching speeds of 32gbps, this product offers a 20% increase to performance vs. any product in the market, which allows customers and the engineering community to maximize crucial signal margins to ensure the highest levels of performance throughout their system."
Contact Catalin Brandas at (607) 643-5071 or visit the product page for more on R-VPX Evolution 2.0 and other connector products from Amphenol Aerospace.