38999 Connector Savers

Description:
Amphenol Aerospace's Connector Savers protect connectors subjected to repeated mating cycles and prevent costly repairs associated with the replacement of connectors and cables. These connectors can also be used when mating plugs to alternate plated receptacles in efforts to avoid corrosion. Fully compatible with standard MIL-DTL-38999 connectors and protection caps.
Features & Benefits:
- Extends the service life of cable assemblies
- Provides an interface for mismatched cable issues
- Corrosion Resistance : Several shell finishes capable of withstanding 500 hours of salt spray
- Environmentally Sealed : Environmentally sealed when mated with Mil-Spec plug
- Gender Availability : Available in a variety of gender options tailored to your application needs
- Contact Protection : Recessed pins in this 100% scoop-proof connector minimize potential contact damage
- Versatile : Mates to standard D38999 plug connectors and accessories
- Temperature : Performs in ranges from -65C to 200C
Technical Information
- Tooled in standard D38999 insert patterns
- Standard platings available for both aluminum and stainless steel shells
- Also available : thermocouple, filtering, high speed, hermetic and custom. Contact Amphenol for more information
- Contact Amphenol for Series I and II availability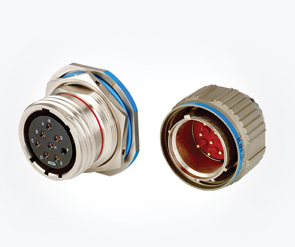 MIL-DTL-38999 Series III - TV
Amphenol Tri-Start MIL-DTL-38999 Series III Connec­tors offer the highest performance capabilities for both general duty and severe environment applications.