MIL-HD2 Next-Gen SOSA™/VITA 91 Aligned Connector Series
Description:
Developed in alignment with The Open Group Sensor Open Systems Architecture™ (SOSA) technical standard, MIL-HD2 provides developers with a readily available, robust open architecture solution for tighter card pitches and chassis designs where space requirements and density are critical. These connectors are available in 3-, 4-, and 6-pair configurations, providing the MIL-embedded market with the highest count of differential pairs available today in a 3U configuration at 56Gb/s PAM 4 speeds. This series was selected by the SOSA Consortium and provides a SOSA aligned solution for nextgen switch and payload card requirements enabling the MIL-embedded market to meet next-gen performance levels while still meeting COTS requirements.
Configurations to meet SOSA/VITA 91 requirements for HD Switch
Features & Benefits:
Highest density with 1.80mm pitch
4 diff, 8 column - SOSA aligned configuration
Data rates scalable to 56Gb/s PAM4 to support system
upgrades without costly redesigns
Proprietary crosstalk reducing technologies
15.7mil drill compliant pin allows deeper backdrilling
Optimized footprints
Shielded contacts mate before signal contacts,
providing up to a 4mm minimum wipe
Embedded capacitor available
Differential pairs 28-84 per inch (11-33 differential pairs
per centimeter)
Proven EMI and signal integrity advantages
Improved impedance matching
Complete solution for unique customer requirements
Enables hot plugging
Meets high density application requirements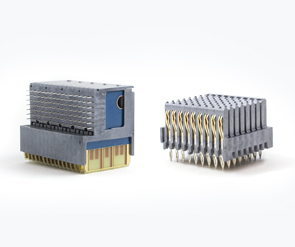 R-VPX VITA 46 Connector System
R-VPX is a ruggedized, high-speed, board-to-board interconnect system capable of data rates in excess of 10 Gbps, meeting and exceeding VITA 46 standards.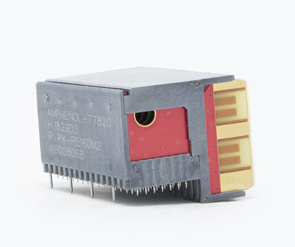 R-VPX Evolution
Capable of data rate transfer speeds of more than 16 Gb/s and meet the performance requirements of VITA 46 and VITA 47. VITA 46 backplane connectors. Optimized for speed and ruggedized to endure harsh environments in military applications.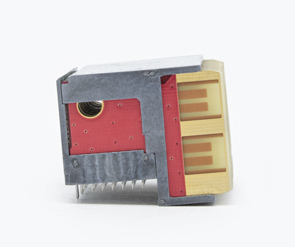 R-VPX Evolution 2.0 VITA 46.30 Connectors
R-VPX Evolution 2.0 series connectors are designed and optimized to achieve data rates in excess of 25 Gb/s, meeting VITA 46.30 requirements.