12-Channel 10G Copper Rugged Ethernet Switch
Description:
Amphenol's Rugged 12-Channel Ethernet Switch Box is conduction cooled and configurable for system connectivity, speeds, port types, and interoperation with various high-speed media converters and connectors for system interfacing.
Each copper port is capable of 10/100, 1G/10G Base-T. In Amphenol's state of the art communications testing center, the switch box is aggressively tested at line rates to RFC 2889 for switching and RFC 2544 for L2/L3 performance, latency, packet forwarding, and other key items.
The switch is manufactured using derivatives of Amphenol's MIL-DTL-38999 Series connectors. These connectors contain standard AS39029 qualified Size 22D contacts and Octonet contacts. Amphenol's Octonet Contacts are a proven design used in a variety of Military Programs. The Octonet is a Size 8 contact housing (4) differential pair contacts. It is a 100 Ohm impedance, capable of a data rate of 4 Gbps maximum per contact pair. The contact system has been tested and passed all the Qualification Requirements of AS39029 contact.
Features & Benefits:
12-Channels of copper 1G/1GBase-T, 16/106
28V MIL-STD-704A input module; VICOR MFM and DC/DC mil-spec power supply with hold-up capacitor and in-rush current limiting circuit.
Built in test functionality for power up, initiated, and continuous operation.
Host management processor

Multicast
Link Aggregation Control Protocol (LACP)
Protocol-Independent Multicast (PIM)
Internet Group Management Protocol (IGMP)
Simple Network Management Protocol (SNMP)
Capable of supporting thousands of virtual local area networks (VLAN) each with its own dynamic host configuration protocol (DHCP) server for various devices within the VLAN
Configurable cross VLAN multicast routing
Storm-prevention
IPV4 and IPV6 support
Spanning tree protocol
Temperature and current monitoring and thermal shutdown in the event of over temperature
SSH, NTP, PTP, TFTP, secure FTP support
Custom configuration files
Web server interaction
Other


Link status on demand, port counter status, configurable port speed/routing, ARP list, drop report, ping, MTU configuration, LUA configuration

Power connector, debug connector, maintenance connector – all D38999's
MIL-Spec black painted chassis with cold plate external conduction cooling
Environmental
Block Diagram
Dimensional Information
I/O Chart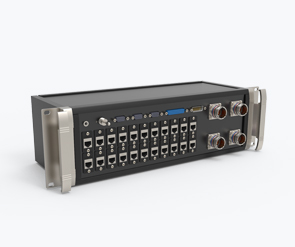 Rugged Junction Boxes
Ethernet junction boxes for rugged military and other harsh environment applications, featuring a wide range of Amphenol D38999 connectors.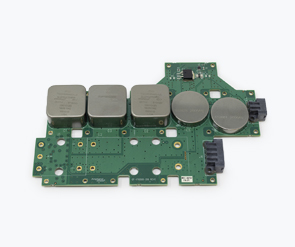 Power Module
Amphenol's Integrated Solutions team can design and manufacture rugged DC/DC power supplies for all types of embedded systems applications.