Push Pull Connectors

Ram-Lock Connectors
Ram-Lock is Amphenol's latest ruggedized push-pull positive locking interface designed for harsh environment applications.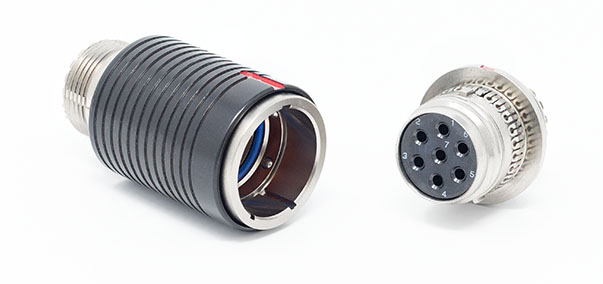 2M Ram-Lock
The 2M Ram-Lock utilizes ball bearings for locking and a traditional D38999 EMI band for Shell-to-Shell conductivity enabling much more consistent and reliable engagement between the plug and receptacle.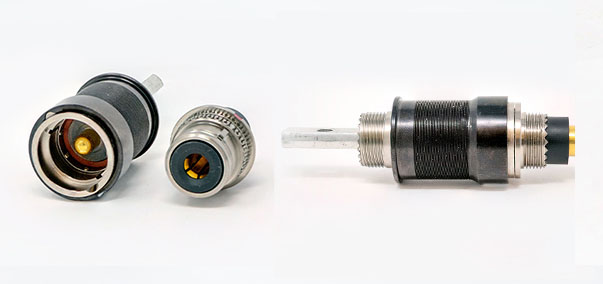 Ram-Lock with High Power Contacts
Amphenol's Single Pole Ram-Lock connector is a ruggedized push-pull connector designed for applications up to 500 °F (260 °C)
---
What is Push/Pull?
Push/pull connectors are circular connectors that prioritize quick connection and disconnection. Amphenol push/pull connectors provide audible and tactile feedback, a system that provides immediate feedback when the connector is mated. An audible and sensory click immediately indicates when the two connector halves are securely fastened, providing an important piece of feedback and assurance under high-pressure circumstances.
Positive locking interface
Several Amphenol push/pull product lines are available with Ram-Lock, an interface that prevents accidental unmating by pairing through the engagement of a positive locking mechanism. This feature makes push/pull connectors ideal for critical functions where ease of use and fast, secure mating are essential for getting the job done.
Several options are also available with high-voltage interlock (HVIL).
Amphenol push/pull connectors are reliable and long-lasting, capable of up to 2,000 mating cycles.
We also offer customization options to meet specific requirements, including disengagement forces, EMI protection, high-speed signals, and more.
Amphenol push/pull connectors are ideal for use with a variety of soldier-worn and uniform-integrated equipment systems and will fit conveniently around a soldier's MOLLE rucksack and tactical assault panel. This includes:
U.S. Army's NETT Warrior system
Connecting and powering radios, headsets, computers, and other body-worn communications equipment
Land, air, and sea applications
Amphenol push/pull connectors are quintessential for a multitude of land, sea, and air application, such as:
Charging and connectivity functions for manned and unmanned ground vehicles
Charging, downloading data from, and general operation of small UAVs (SUAV) and micro air vehicles (MAV), and robotics
Optical and visual targeting equipment
Amphenol push/pull connectors are a fundamental component for powering night vision optics, smart scopes, laser devices, portable targeting equipment, and more.